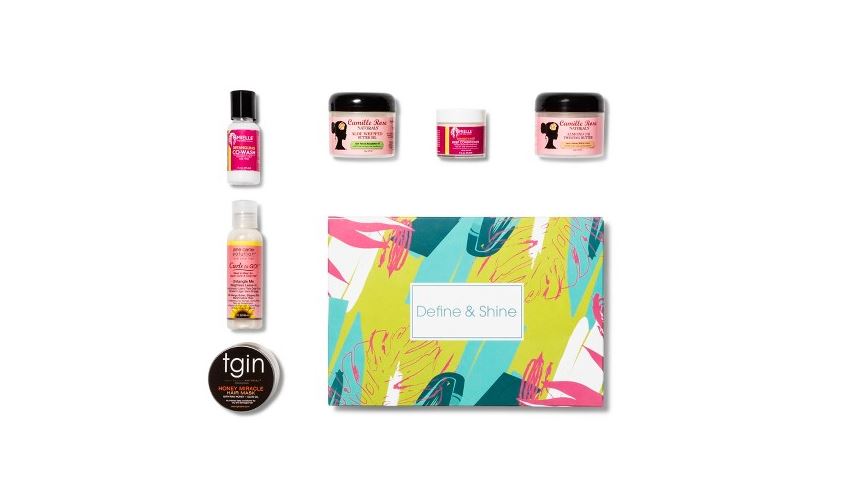 TARGET BEAUTY SHOPPERS
Here's another great deal at Target. Head on over now to purchase this Target Define and Shine Beauty Box for the month of February for only $7 on Target.com and in store. View contents in the box below. There are a total of 6 pieces including coupons.
Jane Carter Curls To Go Un-Tangle Me- 2oz.
Weightless leave-in conditioner hydrates and controls curly Qs, making it ideal for days when you wanna wash-and-go!
Camille Rose Naturals Aloe Whipped Butter Gel- 2oz.
Hydrating fruit botanicals provide intense moisture with a light styling hold so your curls hang tight!
Camille Rose Naturals Almond Jai Twisting Butter- 2 oz.
Pumpkin, macadamia and olive oil quenches thirsty tresses!
TGIN Honey Hair Mask- 2oz.
Raw honey moisturizes and strengthens damaged, over-processed hair, restoring strands so they look and feel softer, silkier and shinier!
Mielle Organic Detanlging Co-Wash- 1oz.
Organic oils and preservatives gentle cleanse and condition strands, leaving locks tangle-free.
Mielle Organix Babassu Oil Mint Deep Conditioner- 1oz.
Fatty acids and natural oils help reduce frizz and fly-aways!
Jane Carter Coupon
$1 off one Jane Carter Hair Care item. Expires 12/31/2018. See Coupon for details.
Mielle Organics Coupon
$2 off one Mielle Organics Hair Care item. Expires 12/31/2018. See Coupon for details.