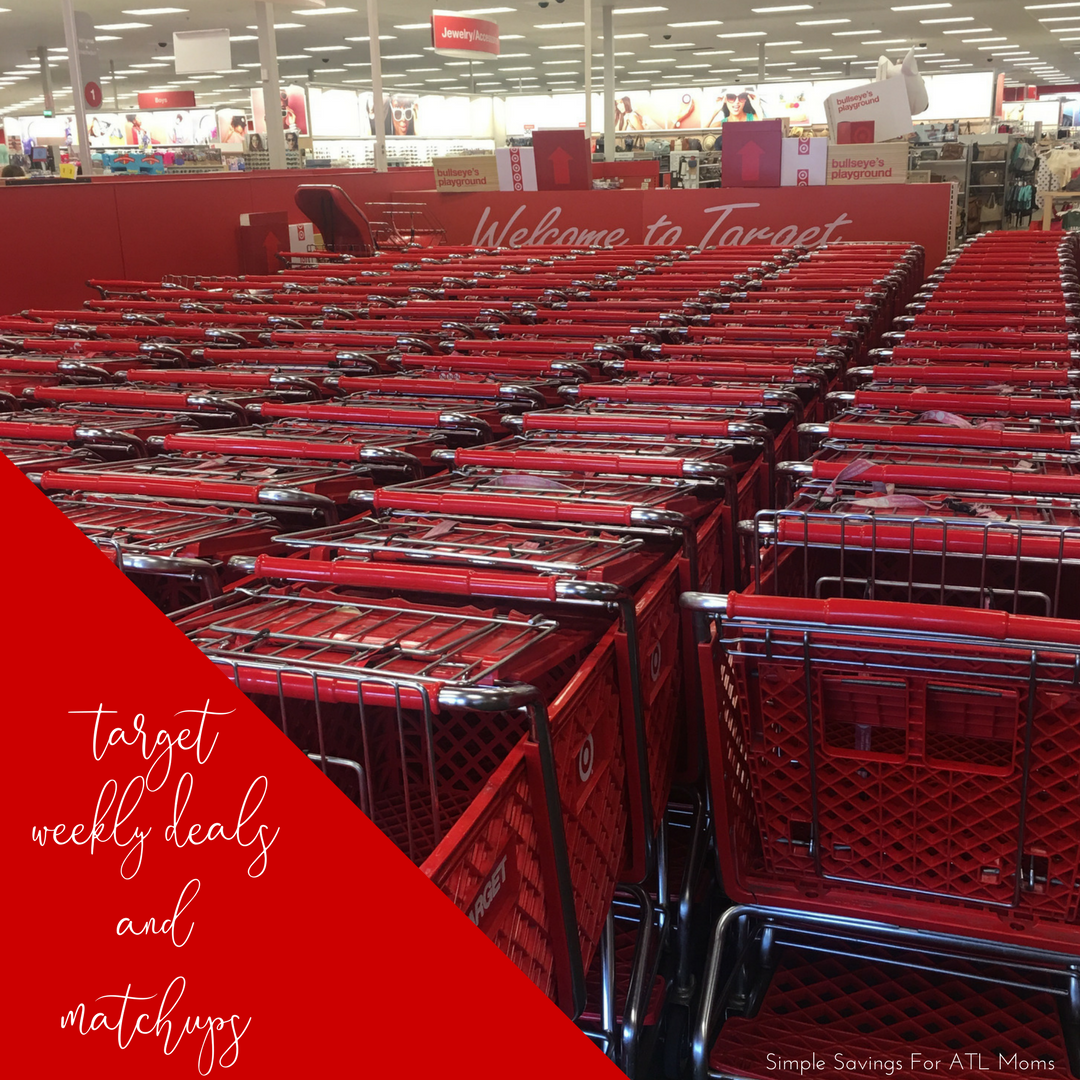 TARGET Weekly Matchup Deals
Deals for the week of November 19, 2017 – November 25, 2017.
Head here for Target Black Friday Ad Preview. Also look for the ad in your Target App (Apple or Android) under Weekly ad.
My Top 10 deals are right here! I am so excited for all these sales.
Free $10 Target Gift Card when you buy $50 in food/beverage products. Text "Grocery" to Target 827438 for mobile coupon. Also look for coupon in upcoming store sales flyer. Valid 11.19 -11.23
B1G1 FREE Pizzas (California Pizza, DiGiorno, Freshchetta) Wednesday, November 15, 2017 only!
Betty Crocker Potatoes 3.7 – 6.6 oz, Stove Top Stuffing 6 or 8 oz, or Heinz Gravy 12 oz only $0.99 each
Del Monte Canned Vegetables 14.5 oz only $0.50 each
French Russet 5 lb bag of potatoes only $1.49 each
Swanson Broth 14.5 oz only $0.59 each can
All feminine care washes, wipes and sprays are 10% off
All Glade candles are Buy one get one 50% off
All Artificial Trees are up to 40% off
TVs, extra 15% off on November 19, 2017 only!
More Weekly Ad Sales/Deals
$5.00 TARGET GIFT CARD WHEN YOU BUY 2
Scott 1000 Sheet Bath Tissue, 15 rolls – $11.59
$0.55/8 Scott 1000 Toilet Paper printable
$0.55/1 Scott 1000 Toilet Paper printable [8-rolls+]
$0.25/4 Scott 1000 Toilet Paper printable
$0.55/8 Scott 1000 Toilet Paper printable
$0.50/1 Scott Bath Tissue Printable [6 rolls or larger]
Final Price: $8.54 each wyb 2
Bounty Paper Towels, 12 mega or 8 huge rolls – $15.89
$0.25/1 Bounty Paper Towels Printable [Excludes Bounty Basic and trial/travel size]
$0.25/1 Bounty Paper Towels printable
$0.25/1 Bounty Paper Towel Product, exp. 11/25/17 (P&G 10/29/17) [Excludes napkins]
Final Price: $13.14 each wyb 2
Downy Softener, 129 oz, or Bounce Sheets, 240 ct, or Unstopables, 19.5 oz – $9.99
$4/1 Downy Liquid Fabric Enhancer AND Bounce Sheets printable [40+ load Downy; 60-ct.+ Bounce]
Final Price: $5.49 each wyb Bounce AND Downy
Kleenex Facial Tissue, 3 – 4 pk – $5.99
$0.50 off Kleenex Facial Tissue Printable [(3) or (1) bundle pack; ETS]
$0.50 off Kleenex, exp. 12/23/17 (SS 11/12/17) [(3) 50-ct.+ boxes or (1) bundle pack; ETS]
Final Price: $2.99 each wyb 2
Finish Dishwasher Detergent, 45 or 46 ct – $9.49
$1/1 Finish Quantum Max, exp. 12/5/17 (SS 11/05/17)
$1/1 Finish Max in 1, exp. 12/5/17 (SS 11/05/17)
Final Price: $5.99 each wyb 2
Charmin Bath Tissue, 12 super mega or 18 mega rolls – $16.99
$0.25/1 Charmin Ultra Soft or Strong Toilet Paper Printable [Excludes Charmin Essentials and trial/travel size]
$0.25/1 Charmin Ultra Soft or Strong printable
$0.25/1 Charmin Toilet Paper Product or Freshmates, exp. 11/25/17 (P&G 10/29/17) [Excludes single roll]
Final Price: $14.24 each wyb 2
Cottonelle, 9 mega rolls – $9.79
$0.75/1 Cottonelle Mega Roll Toilet Paper printable
$0.55/1 Cottonelle Cleanripple Toilet Paper printable
$0.55/1 Cottonelle Toilet Paper printable
$0.55/1 Cottonelle Toilet Paper printable
$0.50/1 Cottonelle Toilet Paper, exp. 12/23/17 (SS 11/12/17) [6+ rolls]
Final Price: $6.54 each wyb 2
Viva, 8 giant rolls – $9.79
$0.75/6 Viva Vantage or Viva Paper Towels printable
$0.50/1 Viva Paper Towel or Viva Vantage Paper Towel Printable [6-ct.+]
$0.75/1 Viva Regular or Vantage, exp. 11/19/17 (SS 10/08/17) [6-ct.+]
$0.50/1 Viva Regular or Vantage Paper Towels, exp. 12/24/17 (SS 11/12/17) [6-ct.+]
Final Price: $6.54 each wyb 2
Gain Flings, 42 ct – $11.99
Final Price: $9.49 each wyb 2
Tide Pods, 32 – 42 ct – $11.99
Final Price: $9.49 each wyb 2
Gain, 120 oz – $11.99
Final Price: $9.49 each wyb 2
Tide, 92 – 100 oz – $11.99
Final Price: $9.49 each wyb 2
TARGET GIFT CARD REWARDS
Vega or Tone It Up Plant-Based Protein Powder – PRICES VARY
$5.00 Target Gift Card wyb 2
$10.00 Target Gift Card When You Spend $50.00 On Food and/or Beverage With In-Ad Coupon
MEAT/SEAFOOD
Archer Farms Premium Entrees – B1G1 50% OFF
Market Pantry Fresh Turkey, per lb – $1.19
Archer Farms Premium Spiral-Sliced Honey Half Ham with Glaze Packet, per lb – $1.99
Market Pantry 41 – 50 ct Large Cooked Tail-On Frozen Shrimp – $7.99
Hormel Bacon, 12 – 16 oz – $4.29
Butterball Premium Frozen Turkey, per lb – $0.99
Limit 2
PRODUCE
Ocean Spray Fresh Premium Cranberries, 12 oz – $1.50
Blackberries, 6 oz – $2.50
Blueberries, 6 oz – $2.50
Archer Farms Fresh Green Beans, 12 oz – $2.00
Russet Potatoes, 5 lb – $1.49
DELI/BAKERY
Market Pantry Pumpkin Pie, 8″ – $2.99
Hormel Party Tray, 28 oz – $10.99
GROCERY
Dasani Sparkling Water, 8 pk – $3.00
Powerade, 8 pk – $4.00
Vitaminwater, 6 pk – $4.00
Dasani, 24 pk – $4.00
Coca-Cola Mini Cans, 6 pk – $2.49
Welch's Sparkling Juice, 25.4 oz – $2.99
Martinelli's Sparkling Juice, 25.4 oz – $2.99
Oreo Cookies, 10.1 – 15.35 oz – $2.99
$0.75/2 Nabisco Cookie or Cracker Products, exp. 12/16/17 (SS 11/05/17) [3.5-oz.+]
Final Price: $2.61 each wyb 2
Carnation Evaporated Milk, 12 oz – $0.99
Libby's Pure Pumpkin, 15 oz – $1.69
Market Pantry Granulated Sugar, 4 lb – $1.89
Market Pantry Unbleached or All-Purpose Flour, 5 lb – $1.89
Ghirardelli Chocolate Gift Boxes, 7.74 oz – $9.00
Lindt Truffles Box, 7.3 oz – $9.00
Peppermint Bark Food Gifts, 12 oz – $9.00
Popcorn Mix Food Gifts, 15.5 oz – $9.00
Bowline Chocolates, 12 oz – $5.00
Hershey's Pot of Gold, 10 oz – $5.00
Hershey-Ets or Reese's Pieces Filled Canes, 0.3 – 5 oz – $1.00
M&M's Peanut Brittle, 8 oz, or Milk Chocolate, 8 – 11.4 oz – $3.00
$1/2 Mars Holiday Products, exp. 12/25/17 (RP 11/19/17)
Final Price: $2.50 each wyb 2
Hot Cocoa or Red and White Peppermint Candy Canes, 12 ct – $1.00
Gingerbread Kits, 26.6 – 38.8 oz – $9.00
General Mills Cereal, 14.8 – 18 oz – $2.99
$1/2 General Mills Cheerios, Cinnamon Toast Crunch, Lucky Charms, Reese's printable
$1/2 General Mills Cheerios, Cinnamon Toast Crunch, Lucky Charms, Reese's printable
$1/2 General Mills Cheerios, Cinnamon Toast Crunch, Lucky Charms, Reese's printable
$1/2 General Mills Cheerios, Cinnamon Toast Crunch, Lucky Charms, Reese's printable
$1/1 Toast Crunch, exp. 12/2/17 (SS 10/22/17) [apple cinnamon, strawberry, blueberry or french toast crunch]
$1/3 Cheerios Boxes, exp. 12/2/17 (SS 10/22/17)
$1/2 Chex Cereal Boxes, exp. 12/30/17 (SS 11/19/17)
$1/3 General Mills Cereals, exp. 12/23/17 (SS 11/12/17)
Final Price: $1.99
Kellogg's Cereal, 9.9 – 17 oz – $2.50
$1/1 Kellogg's Krave Cereal (Savings.com) [11-oz.+]
$1/2 Kellogg's Special K Cereals Printable
$1/1 Kellogg's Krave Cereal printable [11-oz.+]
$0.50/1 Kellogg's Rice Krispies Cereal printable
$1/3 Kellogg's Kid Cereals printable [froot loops, apple jacks, corn puffs, honey smacks, fmw little bites, krave and frosted flakes]
$0.40/1 Kellogg's Raisin Bran Cereal printable
$1/2 Kellogg's Frosted Mini-Wheats Cereals printable
$0.50/1 Kellogg's Krave Cereal printable
$0.50/1 Kellogg's Licensed Cereal printable [disney moana, frozen, princess or despicable me3]
$1/1 Kellogg's Special K Cereal printable
$1/2 Kellogg's Frosted Flakes Cereals printable
$1/2 Kellogg's Froot Loops Cereals printable
$1/3 Kellogg's Cereals, exp. 11/29/17 (RP 10/29/17 R) [8.7-oz.+]
$1/3 Kellogg's Cereals, exp. 12/10/17 (RP 10/08/17 R) [8.7-oz.+]
Final Price: $1.50
Folgers Single Serve Coffee Pods, 18 ct – $9.99
Folgers Ground Coffee, 24.2 – 30.5 oz – $6.99
Starbucks K-Cups, 9 – 16 ct – $9.99
Planters Deluxe Mixed Nuts or Whole Cashews, 14.5 – 18.25 oz – $8.99
$1/2 Planters Products Printable
Final Price: $8.49 each wyb 2
Wondershop Holiday Nuts – $9.49
Coca-Cola Bottles, 6 pk – $3.00
Coca-Cola Cans, 12 pk, or Bottles, 8 pk – 4/$11 wyb 4
or $3.59 each
All Soda, 2 L – 5/$5 wyb 5
or $1.25 each
Lay's Potato and Kettle Chips, 5 – 8.5 oz – $2.50
Frito-Lay Party Size Chips, 13 – 20 oz – $3.50
Club, Town House, and Cheez-It Crackers – $2.50
Del Monte Canned Vegetables, 14.5 – 15.25 oz – $0.59
$0.50/4 Del Monte Canned Vegetables printable
$0.40/4 Del Monte Canned Vegetables, exp. 1/13/18 (SS 11/05/17)
Final Price: $0.46 each wyb 4
French's Crispy Fried Onions, 6 oz – $3.49
$0.30/1 French's French Fried Onions printable
$0.30/1 French's Crispy Fried Onions or French's Crispy Jalapenos printable [5-oz.+]
$0.50/2 French's Fried Onions Printable
$0.50/1 French's Crispy Fried Onions, exp. 12/31/17 (SS 11/05/17) [6-oz.]
Final Price: $2.99
Swanson Broth, 14.5 oz – $0.59
$0.40/4 Swanson Cans, exp. 12/31/17 (SS 11/05/17 R) [14-oz.]
Final Price: $0.49 each wyb 4
Swanson Broth, 32 oz – $1.89
$0.50/2 Swanson Broths or Stocks Printable [32-oz.+]
$0.50/2 Swanson Stock or Broth, exp. 11/26/17 (SS 10/01/17 R) [32-oz.]
$0.50/2 Swanson Broths or Stocks, exp. 12/31/17 (SS 11/05/17 R) [32-oz.+]
Final Price: $1.64 each wyb 2
Campbell's Cream Soup, 10.5 oz – $0.75
$0.80/4 Campbell's Condensed Soup Printable
$0.40/4 Campbell's Condensed Soups, exp. 12/31/17 (SS 11/05/17)
Final Price: $0.55 each wyb 4
Heinz Gravy, 12 oz – $0.99
Stove Top Stuffing, 6 – 8 oz – $0.99
Betty Crocker Potatoes, 3.7 – 6.6 oz – $0.99
$0.50/2 Betty Crocker Potatoes Printable [Excludes potato buds]
$0.50/2 Betty Crocker Potatoes, exp. 1/6/18 (SS 11/12/17) [Excludes buds]
Final Price: $0.74 each wyb 2
Kings Hawaiian Sweet Rolls, 12 ct – $3.00
Pepperidge Farm Stuffing, 12 – 14 oz – $2.49
DAIRY/FROZEN
Marie Callenders Frozen Pies – $4.99
$0.55/1 Marie Callender's Dessert Pie, exp. 12/31/17 (SS 11/05/17 R) [26-oz.+]
Final Price: $4.44
Edwards Frozen Pies – $4.99
$0.75/1 Printable
$0.75/1 Edwards Pie, exp. 12/23/17 (SS 11/12/17) [22.4-oz.+; DND]
Final Price: $4.24
Market Pantry Whipped Topping, 13 oz – $2.50
Pillsbury Pie Crusts, 2 pk – $2.50
$1/2 Pillsbury Refrigerated Baked Goods Products Printable
$1/3 Pillsbury Refrigerated Baked Goods Products, exp. 12/2/17 (SS 10/08/17)
$1/3 Pillsbury Refrigerated Baked Goods Products, exp. 1/27/18 (SS 11/05/17)
Final Price: $2.00 each wyb 2
Land O Lakes Butter Sticks or Quarters, 1 lb – $3.00
Ben & Jerry's, 16 oz – $3.50
Breyers Ice Cream, 48 oz – $3.50
Cool Whip Whipped Topping, 8 oz – $1.25
Ocean Spray Jellied or Whole Cranberry Sauce, 14 oz – $1.39
Green Giant Frozen Vegetables – $0.99
Birds Eye Frozen Vegetables – $0.99
Noos Yoghurt Cups, 4 pk – $4.00
$0.55/1 Noosa Yoghurt printable
$0.55/1 Noosa Yoghurt printable
Final Price: $3.45
Tropicana Orange Juice, 89 oz – $4.99
Tropicana Orange Juice, 59 oz – $3.00
$1.50/2 Tropicana Pure Premium Bottles, exp. 12/31/17 (SS 11/05/17) [59-oz.]
Final Price: $2.25 each wyb 2
Coffee-Mate Coffee Creamer, 32 oz – $2.49
Philadelphia Cream Cheese Brick, 8 oz – $1.50
Archer Farms Frozen Appetizers – $4.49
Kraft Shredded and Block Cheese, 8 oz – $2.00
HOUSEHOLD
Reynolds Holiday Food Storage – $2.99
Glad Holiday Food Storage – $2.99
Vanity Fair Napkins, 150 ct – $2.99
$0.50/1 Vanity Fair Napkins, exp. 12/5/17 (RP 11/05/17) [ETS]
Final Price: $2.49
Dixie Everyday Plates, 55 ct – $2.99
$0.75/1 Dixie Plates printable
$1/2 Dixie Plates, exp. 12/5/17 (RP 11/05/17)
Final Price: $2.24
up & up Plastic Cups, 72 ct – $5.49
Ziploc Holiday Food Storage Gallon Bags, 17 ct – $2.99
$1/2 Ziploc Brand Bags Printable
$1/2 Ziploc Brand Products printable
$1/2 Ziploc Brand Products, exp. 12/24/17 (SS 11/12/17 R)
Final Price: $2.49 each wyb 2
Ziploc Holiday Food Storage Twist 'n Loc Small Round Containers, 3 ct – $2.99
$1/2 Ziploc Brand Containers Printable
$1/2 Ziploc Brand Products printable
$1/2 Ziploc Brand Products, exp. 12/24/17 (SS 11/12/17 R)
Final Price: $2.49 each wyb 2
Mrs. Meyers Multi-Surface Spray in Iowa Pine or Peppermint – $3.79
Mrs. Meyers Dish Soap, 16 oz – $3.79
Glade Mega-Pack Trash Bags – $14.99
Lysol Cleaning Products – B1G1 10% OFF
$1/1 Lysol Disinfectant Spray, exp. 11/21/17 (SS 10/08/17) [12.5-oz.+]
$0.50/1 Lysol Automatic Toilet Bowl Cleaner, exp. 11/21/17 (SS 10/08/17)
$0.50/2 Lysol Kitchen Pro or Power Bathroom Cleaner, exp. 11/21/17 (SS 10/08/17)
$1/2 Lysol Disinfecting Wipes, exp. 11/21/17 (SS 10/08/17) [35-ct.+]
$1/2 Lysol Toilet Bowl Cleaners, exp. 11/21/17 (SS 10/08/17) [24-oz.+]
Glade Candles – B1G1 50% OFF
$1/2 Glade Candles Printable [3.4-oz.]
$1/2 Glade Candles or Wax Melts Refills ONLY, exp. 12/24/17 (SS 11/12/17 R) [Candle 3.4-oz.]
Arm & Hammer Laundry Care – 10% OFF
Oxi Clean Laundry Care – 10% OFF
$1/1 OxiClean Laundry Detergent printable
$1/1 OxiClean White Revive Laundry Stain Remover printable
$0.50/1 OxiClean Max Force or Laundry Stain Remover Spray printable
$1/1 OxiClean White Revive printable
$1/1 OxiClean Odor Blasters or Versatile Stain Remover printable [3-lb.+]
Scotch-Brite Sponges, 4 pk – $4.00
HBA
up & up Liquid Hand Soap Refill, 56 oz – $3.89
Oral-B Toothbrush – $3.99
Colgate Toothpaste – $3.99
$0.75/1 Colgate Enamel Health Toothpaste printable [3-oz.+]
$1/1 Colgate Radiant White Toothpaste printable
$0.75/1 Colgate Sensitive Toothpaste printable
$0.50/1 Colgate Toothpaste, exp. 12/2/17 (SS 11/19/17)
Final Price: $3.24
Crest Toothpaste – $3.99
Aveeno Daily Moisturizing Lotion, 18 oz – $7.99
$1/1 Aveeno Product printable [Excludes cleansing bars, trial sizes and 2.5-oz. body lotion sizes]
$2/2 Aveeno Products printable [Excludes cleansing bars, trial sizes and 2.5-oz. body lotion sizes]
Final Price: $6.99
L'Oreal Lash Paradise Mascara – $8.99
Tums Peppermint Chewy Bits, 60 ct, or Berry Fusion Smootjies, 140 ct – $6.99
$0.75/1 TUMS Product printable [32-ct.+]
Final Price: $6.24
Amope Pedi Perfect Foot File – $24.99
Opti-Free, 2 pk – $16.99
$2/1 OPTI-FREE Solution Printable [10-oz.+]
$2/1 Opti-Free Solution printable [10-oz.+]
$2/1 Opti-Free Solution printable [10-ml.+]
Final Price: $14.99
Clear Care, 2 pk – $16.99
$5/1 Clear Care Product printable [Join EyeFile]
$2/1 Clear Care or Clear Care Plus Solution Printable [12-oz.+]
$2/1 Clear Care Solution printable [10-oz.+]
$2/1 Clear Care Brand Product printable
Final Price: $11.99
Advil Liqui-Gels Minis, 80 ct – $8.99
$2/1 Advil Liqui-Gels Minis Product printable [ETS]
$1/1 Advil Product printable [ETS]
$1/1 Advil Liqui-Gels Product printable [ETS]
$2/1 Advil Liqui-Gels Minis, exp. 11/19/17 (RP 11/05/17) [80-ct.+]
$1/1 Advil Liqui-Gels Minis, exp. 11/19/17 (RP 11/05/17) [20-ct.+]
$2/1 Advil, exp. 12/5/17 (RP 11/05/17) [80-ct.+]
Final Price: $6.99
Mrs. Meyers Hand Soap, 12.5 oz – $3.79
BABY
Johnson's Baby Gift Set – $9.99
Gerber Grabbers and Organic Pouches – $1.00
Similac Pro-Advance Non-GMO Infant Formula with HMO, 30.8 oz – $33.29
Enfagrow Premium Non-GMO Formula, 32 oz – $24.99
up & up Super-Pack Diapers – $14.99
Huggies Super-Pack Diapers – $24.29
$2/1 Huggies Little Movers Diapers printable
$2/1 Huggies Overnites Diapers printable
$1.50/1 Huggies Little Snugglers Diapers printable
$1.50/1 Huggies Overnites Diapers printable
$2/1 Huggies Overnites Diapers printable
$1.50/1 Huggies Little Movers Diaper Pants printable
$1.50/1 Huggies Little Movers Diapers printable
$2/1 Huggies Little Movers Slip-On Diapers printable
$2/1 Huggies Little Snugglers Diapers printable
$2/1 Huggies Little Snugglers Diapers printable
$1.50/1 Huggies Little Snugglers Diapers printable
$2/1 Huggies Little Movers printable
$1.50/1 Huggies Diapers printable
Final Price: $22.29
Pampers Super-Pack Diapers – $24.29
$1/1 Pampers Cruisers Diapers Printable [ETS]
$1/1 Pampers Swaddlers Diapers Printable [ETS]
$1/1 Pampers Baby Dry Diapers Printable [ETS]
Final Price: $23.29