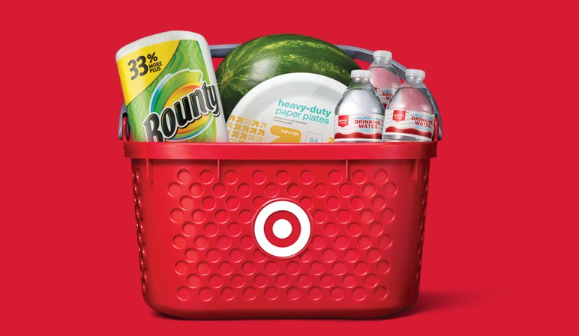 Below are the Target Coupon Matchups for deals this week found in store. Find some of the best deals posted here. Matchups are shared on all of my social media networks all the time. Be sure and find me on those that you are on the most: Facebook, Twitter, Periscope, or Instagram.
Use your Target Red Card to save an additional 5% off your total purchase at checkout.
Always keep your Target Coupon Policy with you in case you need to refer to it while in store. Review their price matching policy in case you find a lower cost elsewhere.
Check for Target Coupons here.
Title
$10.00 TARGET GIFT CARD WHEN YOU BUY 2
$2.00/1 Huggies Diapers; Excludes 9 ct or Less$1.00/1 Huggies Diapers $1.50/1 Huggies Diapers Package – 3-10-19 SS; Excludes 9 ct or Less (exp. 04/07/19) $3.00/2 Huggies Diapers – 3-17-19 SS; Includes 10 ct or Larger Only Final Price: $17.99 each wyb 2
Huggies Little Movers Super Pack Diapers – $24.99
Final Price: $19.99 each wyb 2
Pampers Swaddlers Super pack Diapers – $24.99
$5.00 TARGET GIFT CARD WHEN YOU BUY 2
Final Price: $5.49 each wyb 2
Swiffer Dusters, 6 ct – $7.99
$2.00/1 Swiffer Starter Kit – 2-24-19 PG; Excludes Heavy Duty Duster, 1 ct and 2 ct; Excludes Trial and Travel Size; Limit of 2 Like Coupons Per Household Per Day (exp. 03/23/19) Final Price: $7.49 each wyb 2
Swiffer Starter Kit – $11.99
Final Price: $5.49 each wyb 2
Swiffer Wet Jet Refills, 15 ct – $7.99
$5.00 TARGET GIFT CARD WHEN YOU BUY 2
$4.00/1 Children's Claritin or RediTabs for Juniors; Includes Children;s, 8 oz or 20 ct or Larger Only or RediTabs, 30 ct Only $4.00/1 Non-Drowsy Children's Claritin or Claritin Reditabs Juniors – 3-17-19 SS; Includes Children's, 8 oz or 20 ct or Larger Only or Reditabs, 30 ct Only; Limit 4 Exact Same Coupon Per Household Per Day (exp. 04/14/19)
Claritin Juniors Reditabs, 10 ct – Prices Vary
up & up Allergy Relief, select – Prices Vary
$5.00 TARGET GIFT CARD WHEN YOU BUY 2
Final Price: $37.49 each wyb 2
Enfamil Enspire Gentlease Formula, 20 oz – $39.99
Final Price: $37.49 each wyb 2
Enfamil Gentlease Enspire Infant Formula, 20.5 oz – $39.99
$5.00 TARGET GIFT CARD WHEN YOU BUY 2
$0.50/1 Huggies Baby Wipes; Includes 48 ct or Higher Only$1.00/2 Huggies Baby Wipes; Includes 300 ct or Larger Only; DND $1.00/2 Huggies Wipes – 3-17-19 SS; Includes 56 ct or Larger Only $1.00/2 Huggies Wipes Packages – 3-10-19 SS; Includes 48 ct or Higher Only (exp. 04/07/19) Final Price: $11.59 each wyb 2
Huggies Wipes, 616 ct – $14.59
Final Price: $12.49 each wyb 2
Pampers Wipes, 504 ct – $14.99
$5.00 TARGET GIFT CARD WHEN YOU BUY 2
Final Price: $4.49 each wyb 2
Arm & Hammer Clean Scentsations In-Wash Booster, 37.5 oz – $6.99
$2.00/1 Downy Fabric Conditioner, Bounce/Downy Sheets, or In Wash Scent Boosters – 2-24-19 PG; Includes Fabric Conditioner, 48 ld or Larger Only; Sheets, 70 ct or Larger ONly; or In Wash Boosters, 5.78 o or Larger Only; Excludes Trial and Travel Size; Limit of 1 Like Coupon Per Household Per Day (exp. 03/30/19) Final Price: $4.69 wyb 2 items
Bounce Dryer Sheets, 240 ct – $9.19
Final Price: $14.49 each wyb 2 "
Bounty Paper Towels, 12 Mega or 8 Huge Rolls – $16.99 Out-of-Pocket Price: $16.99
" Final Price: $17.99 each wyb 2
Charmin Bath Tissue, 18 mega plus rolls – $20.49
$2.00/1 Downy Fabric Conditioner, Bounce/Downy Sheets, or In Wash Scent Boosters – 2-24-19 PG; Includes Fabric Conditioner, 48 ld or Larger Only; Sheets, 70 ct or Larger ONly; or In Wash Boosters, 5.78 o or Larger Only; Excludes Trial and Travel Size; Limit of 1 Like Coupon Per Household Per Day (exp. 03/30/19) Final Price: $5.49 wyb 2 items
Downy Fabric Softener, 129 oz – $9.99
$2.00/1 Downy Fabric Conditioner, Bounce/Downy Sheets, or In Wash Scent Boosters – 2-24-19 PG; Includes Fabric Conditioner, 48 ld or Larger Only; Sheets, 70 ct or Larger ONly; or In Wash Boosters, 5.78 o or Larger Only; Excludes Trial and Travel Size; Limit of 1 Like Coupon Per Household Per Day (exp. 03/30/19) Final Price: $5.49 wyb 2 items
Downy Unstopables Booster Beads, 14.8 oz – $9.99
$1.00/1 Gain Powder, Gain Liquid Detergent or Gain Flings – 3-10-19 RMN; Excludes Fireworks and Flings, 9 ct or Below; Excludes Trial and Travel Size (exp. 03/23/19) Final Price: $8.49 each wyb 2
Gain Flings, 42 ct – $11.99
$1.00/1 Gain Powder, Gain Liquid Detergent or Gain Flings – 3-10-19 RMN; Excludes Fireworks and Flings, 9 ct or Below; Excludes Trial and Travel Size (exp. 03/23/19) Final Price: $8.49 each wyb 2
Gain Liquid, 120 oz – $11.99
$0.50/3 Kleenex Facial Tissue; Includes (3) Single Boxes or (1) Bundle Pack; Excludes Trial or Travel Size; DND $0.50/3 Kleenex Facial Tissue Boxes/Packs or Wet Wipes Packages – 3-10-19 SS; Includes 30 ct or Higher Tissues or Wet Wipes 20 ct or Higher Only (exp. 04/07/19) Final Price: $2.99 each wyb 2
Kleenex Facial Tissue, 3 – 4 pk – $5.99
$1.00/1 Lysol Laundry Sanitizer – 3-10-19 SS (exp. 05/21/19) Final Price: $6.49 each wyb 2
Lysol Laundry Sanitizer, 90 oz – $9.99
Final Price: $13.49 each wyb 2
Mrs. Meyers Liquid Laundry Detergent, 64 oz – $15.99
$0.50/1 Purex Liquid or Powder Laundry Detergent Final Price: $3.99 each wyb 2
Purex Detergent, 150 oz – $6.99
$0.50/1 Scott Bath Tissue Rolls – 3-10-19 SS; Includes 4 pk or Larger Only (exp. 04/07/19) Final Price: $14.19 each wyb 2
Scott 1000 Sheet Bath Tissue, 24 rolls – $17.19
$2.00/1 Tide Detergent or Antibacterial Spray – 2-24-19 PG; Excludes PODS, Rescue, Simply, Detergent, 10 oz or Stain Pen; Excludes Trial and Travel Size; Limit of 1 Like Coupon Per Household Per Day (exp. 03/30/19) $1.00/1 Tide Detergent or Antibacterial Spray – 2-24-19 PG; Excludes PODS, Rescue, Simply, Detergent, 10 oz or Stain Pen; Excludes Trial and Travel Size; Limit of 1 Like Coupon Per Household Per Day (exp. 03/30/19) Final Price: $7.49 wyb 2 items
Tide Liquid, 100 oz – $11.99
$2.00/1 Tide PODS – 2-24-19 PG; Excludes Tide Liquid/Powder, Simply Varieties, Pods, 9 ct or Below; Excludes Trial and Travel Size; Limit of 1 Like Coupon Per Household Per Day (exp. 03/30/19) Final Price: $7.49 wyb 2 items
Tide Pods, 42 ct – $11.99
Final Price: $6.69 each wyb 2
up & up Paper Towels, 8 Giant Rolls – $9.19
FREE BEGGIN' OR FRISKIES TREATS WHEN YOU BUY 2
$2.00/1 Purina Beneful Dry Dog Food – 3-3-19 RMN; Includes 3.5 lb or Larger Only (exp. 04/03/19) Final Price: $12.59
Purina Beneful Dry Dog Food, 6.5 lb – $13.59
Purina ONE Dry Cat Food, 7 lb – $13.59
$3.00/1 Purina ONE Smartblend Dry Dog Food Final Price: $9.49
Purina ONE Smartblend Dry Dog Food, 6 – 8 lb – $12.49
TARGET GIFT CARD REWARDS
$5.00 Target Gift Card with Beauty & Personal Care Purchase of $20.00 or More With Coupon
$5.00 Target Gift Card with an Yogurt Purchaseof $15.00 or More with Coupon
MEAT/SEAFOOD
Archer Farms Frozen Chicken Wings, 48 oz – $7.99
Ground Beef – B1G1 20% OFF
Hillshire Farm Lit'l Smokies, 12 – 14 oz – $2.79
Jack Daniel's Pulled Pork – $5.99
Market Pantry Bacon, 12 – 16 oz – $3.99
PRODUCE
Avocados, ea – $1.00
Bell Peppers, 3 ct – $2.99
Blackberries, 6 oz – $2.00
Raspberries, 6 oz – $3.00
GROCERY
Angie's Popcorn, 4.4 – 7 oz – $3.00
BodyArmor – $1.00
Brach's Easter Eggs, 18 oz – $2.50
Cadbury Mini Eggs, 9 – 10 oz – $3.00
Cheetos, 7.5 – 8 oz – $3.00
or $2.99 each
Cheez-It Original, 8 – 12.4 oz, or Snap'd, 7.5 oz – 2/$5 wyb 2
Deer Park Sparkling Water, 8 pk – $3.00
Deer Park Water, 24 pk – $3.00
or $10.99 each
Donut Shop or Green Mountain Coffee Pods, 18 ct – $8.99/ea wyb 2
Dove Chocolates, 7.94 – 8.87 oz – $3.50
$1.25/1 Dunkin' Donuts Coffee Product Final Price: $4.74
Dunkin' Donuts Coffee, 11 – 12 oz – $5.99
or $11.89 each$1.25/1 Dunkin' Donuts Coffee Product Final Price: $8.74 each wyb 2
Dunkin' Donuts Single-Cup Coffee Pods, 16 ct – $9.99/ea wyb 2
Easter Peeps, 3 – 16 ct – $1.66
Frito Lay Simply Snacks, 7 – 8.5 oz – $2.50
$1.00/1 General Mills Cereals – 3-17-19 SS; Includes Maple Cheerios, Cinnamon Toast Crunch Churros, Chocolate Toast Crunch, Fiber One Strawberries & Vanilla Clusters, Fruity Lucky Charms, and Nature Valley Fruit & Nut Granola Pouch (exp. 04/27/19) $1.00/1 General Mills Chocolate Toast Crunch Cereal – 2-10-19 SS (exp. 03/23/19) $1.00/1 General Mills Cinnamon Toast Crunch Churros Cereal – 2-10-19 SS (exp. 03/23/19) $1.00/1 General Mills Fiber One Strawberries & Vanilla Clusters Cereal – 2-10-19 SS (exp. 03/23/19) $1.00/1 General Mills Maple Cheerios Cereal – 2-10-19 SS (exp. 03/23/19) $1.00/2 General Mills Cereals – 3-3-19 SS; Includes Fiber One, Chex, MultiGrain Cheerios, Wheaties, Basic 4, Raisin Nut Bran, Oatmeal Crisp, Nature Valley, Total, or Nature Valley Granola (exp. 04/13/19) $1.00/2 General Mills Cereals – 3-3-19 SS; Includes Lucky Charms Varieties, Reese's Puffs, Cinnamon Toast Crunch Varieties, Cocoa Puffs, Trix, Cookie Crisp, Golden Grahams, Kix, or Blasted Shreds (exp. 04/13/19) $1.00/2 General Mills Cheerios Cereals – 3-3-19 SS (exp. 04/13/19) $1.00/3 General Mills Big G or Nature Valley Cereal – 3-17-19 SS Final Price: $2.50
General Mills Cereal, 18 – 21.2 oz – $3.50
Heinz Ketchup, 38 oz – $2.50
Hint – $1.00
$1.00/3 Kellogg's Cereals Final Price: $3.17 each wyb 3
Kellogg's Cereal, 16.5 – 24.8 oz – $3.50
Kettle Brand Chips, 8.5 oz – $3.00
King's Hawaiian Rolls, 24 ct – $5.49
King's Hawaiian Rolls, 6 – 12 ct – $3.00
Kit Kat Minis, 9 – 12 oz – $3.00
Kodiak Baking and Pancake Mixes – $4.29
Market Pantry Snacks – 10% OFF
Mott's 100% Juice, 64 oz – $2.00
Nestle Pure LIfe Water, 28 pk – $3.00
Pepsi, Canada Dry, or Mountain Dew, 12 pk – $3.33
Planters NUT-rition Blends and Mixes, 5.5 oz – $3.00
Planters Peanuts, 16 oz – $3.00
or $2.99 each
Pop-Tarts, 5 – 12 ct – $2.50/ea wyb 2
Popchips, 4 – 5 oz – $3.00
Powerade, 8 pk – $4.00
Prego Pasta Sauce, 14.5 – 24 oz – $1.50
or $1.50 each
Pringles, 4.9 – 5.5 oz – 4/$5
Quaker Cereal, 21.3 – 24.6 oz – $3.50
Red Bull Energy Drink, 4 pk – $5.99
Reese's Peanut Butter Cups Snack Size, 10.5 oz – $3.50
or $2.50 each
Ritz, 7.5 – 13.7 oz, Wheat Thins, 5.5 – 9.5 oz, or Triscuit, 7.1 – 9 oz – 3/$6 wyb 3
Rold Gold Pretzels, 8.25 – 16 oz – $2.50
Ruffles, 8.5 – 9 oz – $3.00
Simply Balanced Fruit Spreads – 10% OFF
Simply Balanced Juice Pouches and Boxes – 10% OFF
Simply Balanced Nut Butters – 10% OFF
Smartwater – $1.00
Sparkling Ice – $1.00
$1.00/3 Kellogg's Cereals Final Price: $2.17
Special K Cereal, 10.5 – 13.1 oz – $2.50
Starburst Jelly Beans, 6.3 – 14 oz – $2.50
Tostitos Chips, 9 – 13 oz – $2.50
Tostitos Dips or Salsas, 10 – 15.75 oz – $2.50
VitaminWater – $1.00
VitaminWater, 6 pk – $4.00
$1.00/1 Wonderful Pistachios – 1-20-19 SS; Includes 14 oz or Larger Only (exp. 03/20/19) Final Price: $7.99
Wonderful Pistachios, 20 oz – $8.99
$0.50/1 Wonderful Pistachios – 1-20-19 SS; Includes 4.5 – 8 oz Only (exp. 03/20/19) Final Price: $3.49
Wonderful Pistachios, 8 oz – $3.99
DAIRY/FROZEN
Almond Breeze Milk, 64 oz – $2.99
Bertolli Family-Size Meals, 24 oz – $5.99
DiGiorno Frozen Multiserve Pizza – $6.99
Good Foods Dips – $3.50
Halo Top Ice Cream Pints – $3.50
Horizon Organic Milk, 64 oz – $4.29
FREE Rotel Diced Tomatoes, 10 oz, wyb 1
Kraft Velveeta, 32 oz – Prices Vary
Market Pantruy Block and Shredded Cheese – 10% OFF
Market Pantry Block Cheese, 7 – 8 oz – $1.99
Market Pantry Cream Cheese, 8 oz – $1.29
Market Pantry Frozen Snacks, 7.2 – 10 oz – $3.00
Market Pantry Shredded Cheese, 8 oz – $1.99
Market Pantry Sliced Cheese, 8 oz – $1.99
Market Pantry Sour Cream, 16 oz – $1.29
Ore Ida Frozen Potatoes, 22 – 32 oz – $2.50
Outsiders Frozen Multiserve Pizza – $6.99
P.F. Chang's Family-Size Meals, 22 oz – $5.99
P.F. Chang's Sides, 8.2 – 16 oz – $2.99
$1.00/1 Sabra Hummus; Includes 10 oz or Larger Only Final Price: $2.00
Sabra Hummus, 10 oz – $3.00
$1.00/1 Silk Milk Final Price: $1.99
Silk Milk, 64 oz – $2.99
Simply Balanced Organic Eggs, 12 ct – $3.99
Totino's Pizza Rolls, 50 ct – $3.33
HOUSEHOLD
$0.50/1 Clorox Disinfecting Wipes; Includes 32 ct or Larger Only$0.50/1 Clorox Scentiva Disinfecting Wipes; Includes 33 ct or Larger Only Final Price: $4.49
Clorox Disinfecting Wipes, 65 – 75 ct – $4.99
Dawn Ultra Liquid Dish Soap, 34 – 40 oz – $4.99
$0.75/1 Dixie Plates; Must Register To Access Coupon Final Price: $2.44
Dixie Plates, 22 – 55 ct – $3.19
Duracell Coppertop AA/AAA Batteries, 20 pk – $14.89
Energizer Max AA/AAA Batteries, 20 pk – $14.89
Febreze Car Vent Clips, 2 pk – $4.99
$1.00/1 Glade 3-Wick Candle; Includes 6.8 oz Only Final Price: $3.99
Glade 3 Wick Candle, 6.8 oz – $4.99
Method All Purpose Cleaner, 28 oz – $4.29
Solo Squared Plastic Cups, 72 ct – $6.00
Up & Up 10″ Heavy Duty Plates, 55 ct – $4.19
Vanity Fair Napkins, 150 ct – $3.19
$1.00/2 Ziploc Brand Products Final Price: $4.29
Ziploc Sandwich, Snack, or Storage Bags, select – $4.79
up & up 16 oz Plastic Cups, 30 ct – $4.19
up & up 18 oz Cups, 36 ct – $2.99
up & up Disinfecting Wipes, 3 pk – $4.99
up & up Heavy Duty Plates, 55 ct – $2.99
HBA
$2.00/1 Bic Silky Touch Disposable Razor Pack; Excludes Trial and Travel Sizes$2.00/1 Bic Single Blade, Twin Blade, Bic Comfort 3 or Bic 3 Disposable Razor Pack; Excludes Trial and Travel Size $2.00/1 Bic Single Blade, Twin Blade, Comfort 3, Bic 3, or Silky Touch 3 Razor Pack – 3-3-19 SS; Excludes Trial and Travel Size; Limit 2 IDentical Coupons Per Household Per Day (exp. 03/23/19)
BiC Disposable Razors – 50% OFF
$1.50/1 L'Oreal Paris Mascara, Eyeliner or Eyebrow product $2.50/1 L'Oreal Mascara – 3-3-19 RMN; Limit (1) Like Coupon (exp. 03/30/19) Final Price: $2.50
L'Oreal Voluminous Mascara – $5.00
$2.00/1 Maybelline New York Fit Me Product – 3-17-19 RMN; Limit 1 (exp. 04/13/19) Final Price: $3.00
Maybelline Fit Me! Foundaton and Concealers – $5.00
$1.00/1 MiraLax Products$2.00/1 MiraLax Product; Includes 20 ct or Larger Only $2.00/1 MiraLAX Product – 3-17-19 SS; Includes 10 ct or Larger Only $8.00/1 MiraLax Product – 3-17-19 SS; Includes 20 dose or Larger Only; Limit 4 Exact Same Coupon Per Household Per Day (exp. 03/24/19) Final Price: $15.85
MiraLAX Powder, 17.9 oz – $17.85
$1.00/1 Children's or Infants' Motrin Product$1.00/1 Children's Motrin Oral Suspension Product Final Price: $4.99
Motrin Children's Liquid Pain Relief, 4 oz – $5.99
$5.00/1 Nexxus Product – 3-17-19 RMN; Excludes Trial and Travel Size; Limit 2 Identical Coupons Per Household Per Day (exp. 03/30/19)
Nexxus Color Assure Hair Care – 50% OFF
No7 Laboratories Line Correcting Booster Serum – $29.99
Pixi Skintreat Tonics, 3.4 oz – $10.00
Sun Bum Hair Care – 40% OFF
Tylenol Children's Liquid Pain Relief, 4 oz – $5.99
BABY
Cloud Island Diapers, 78 ct – $21.99
Cloud Island Wipes – $16.99