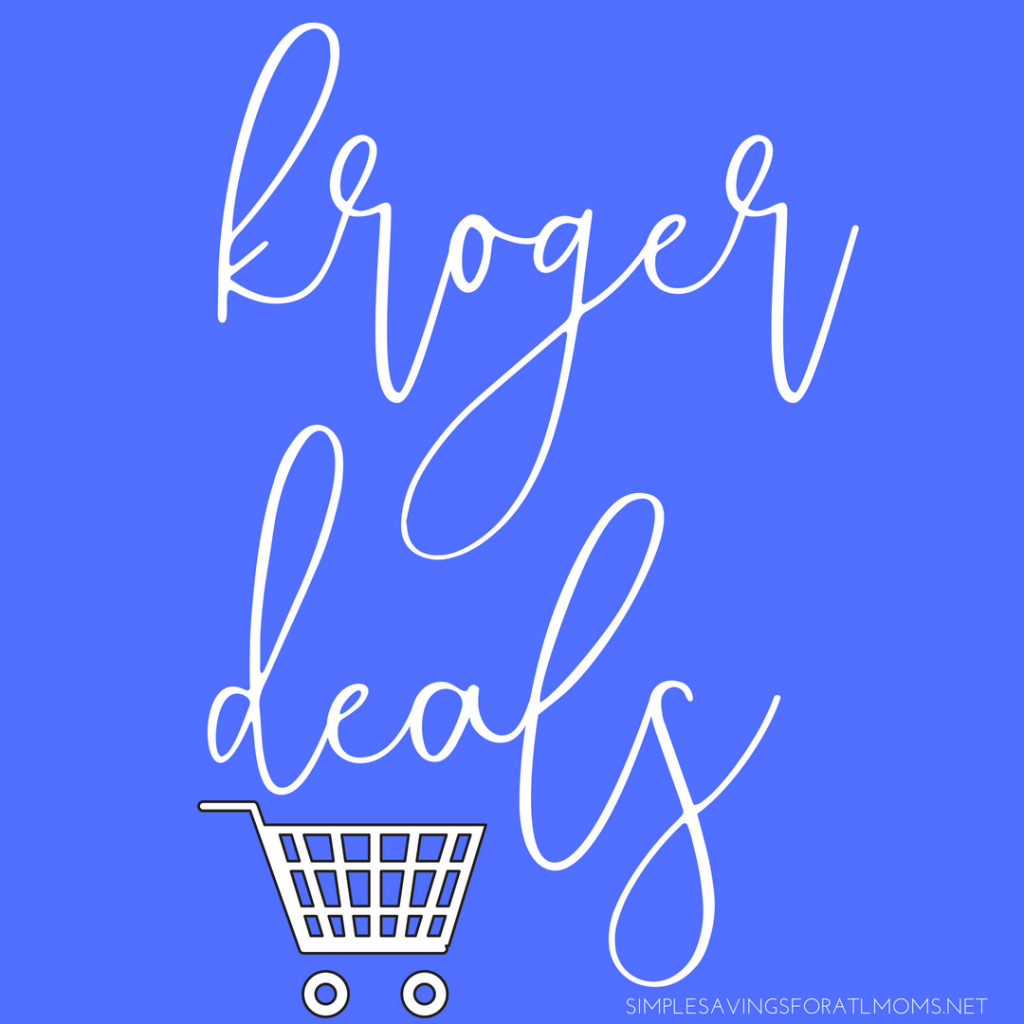 Here are the Kroger deals this week. View more of my deals on Instagram.
COUPON POLICY: Need to know the Kroger coupon policy? Head here and be sure to print a copy of the Kroger coupon policy for your binder/coupon organizer in case you need it while shopping.
MONEY SAVING Tip: Don't forget your store loyalty card. Or you can show your Kroger app barcode or enter your loyalty phone number at checkout for savings to apply.
Buy 6 Save $3 Instantly. Deals end 6.26.18
7UP Products, 2 L – $1.49
Final Price: $0.99
AXE Body Wash, 16 oz – $3.99
$1/1 AXE Body Wash Product, exp. 6/24/18 (RMN 06/10/18 #2) [Excludes trial/travel size]
Final Price: $2.49
AXE Conditioner, 12 oz – $3.99
$1/1 AXE Hair Care Product, exp. 6/24/18 (RMN 06/10/18 #2) [Excludes trial/travel size]
Final Price: $2.49
AXE Shampoo, 12 oz – $3.99
$1/1 AXE Hair Care Product, exp. 6/24/18 (RMN 06/10/18 #2) [Excludes trial/travel size]
Final Price: $2.49
All Liquid Laundry Detergent, 94.5 – 100 oz – $5.99
$2/2 All or Snuggle Products, exp. 7/1/18 (RMN 06/03/18) [ETS; Limit of One Identical Coupon Per Shopping Trip]
$1/1 All Product, exp. 7/1/18 (RMN 06/03/18) [ETS; Limit of One Identical Coupon Per Shopping Trip]
Final Price: $4.49
Bai Bubbles, 11.5 oz – $1.49
Final Price: $0.99
Bar-S Lunch Meat, 28 – 32 oz – $5.99
Final Price: $5.49
Barbara's Cereal, 10 – 14 oz – $3.49
$1/1 Barbara's Cereal printable
Final Price: $1.99
Ben & Jerry's Ice Cream, 16 oz – $3.49
Final Price: $2.99
Bob Evans Sides, 12 – 24 oz – $3.49
Final Price: $2.99
Body Armor Hydration and Nutrition Drink, 16 oz btls – $1.49
Final Price: $0.99
Breyers Ice Cream, 48 oz – $4.49
Final Price: $3.99
Cascade Action Pacs, 11 – 20 ct – $4.29
Final Price: $3.79
Chobani Indulgent Greek Yogurt, 4 pk – $3.99
Final Price: $3.49
Coca-Cola Products, 2 L – $1.49
Final Price: $0.99
Comforts Wipes, 64 – 72 ct – $1.39
Final Price: $0.89
Cracker Barrel Cheese Dip, 2.65 – 2.75 oz – $2.29
Final Price: $1.79
Crest Complete Toothpaste, 5.8 – 6.2 oz – $2.99
$1/1 Crest Toothpaste or Liquid Gel or Kids Toothpaste, exp. 6/16/18 (P&G 06/03/18) [3-oz. or more; Excludes Crest Cavity, Baking Soda, Tartar Control/Protection, Doc McStuffins, Cars, Princesses 4.6-oz. and trial/travel size; Limit of 2 Identical Coupons Per Household Per Day]
Final Price: $1.49
Dannon Danimals Smoothies, 6 pk – $2.89
Final Price: $2.39
Dawn Dish Liquid, 24 – 28 oz – $3.49
Final Price: $2.99
Dole Salad Kit, 8.3 – 14.4 oz – $3.49
Final Price: $2.99
Finish Auto Dish Detergent, 75 oz – $4.29
$0.75/1 Finish Quantum Automatic Dishwasher Detergent, exp. 7/3/18 (SS 06/03/18) [Limit of 2 Identical Coupons in Same Shopping Transaction; No Cash Back]
Final Price: $3.04
Florida's Natural Orange Juice, 59 oz – $2.99
Final Price: $2.49
Fresh Foods Market Roasted Chicken, 2 lb – $5.49
Final Price: $4.99
Frigo CheeseHeads, 6.3 – 10 oz – $2.49
Final Price: $1.99
Frito-Lay Doritos Tortilla Chips, 8.5 – 11.25 oz – $2.49
Final Price: $1.99
Frito-Lay Ruffles Potato Chips, 8.5 – 11.25 oz – $2.49
Final Price: $1.99
General Mills Fiber One Bars, 5 – 12 ct – $2.99
$0.50/2 Fiber One Chewy Bars, 90 Calorie Products, Protein Chewy Bars, Streusel, Cheesecake Bars, Layered Bars, Protein Nut Bars, Brownie or Cookie Bites, Mini Bars, or Supreme Brownies
$0.50/2 Fiber One Bars – 6-17-18 SS (exp 08/11/18)
Final Price: $2.24
Graeters Ice Cream, 16 oz – $4.99
Final Price: $4.49
Haggen Dazs Ice Cream, 14 oz – $3.49
Final Price: $2.99
Halo Top Ice Cream, 16 oz – $3.49
Final Price: $2.99
Home Sense Storage Bags, 28 – 48 ct – $2.99
Final Price: $2.49
Kellogg's Cereal, 17 – 19 oz – $2.99
$1.00/3 Kellogg's Cereals; Includes 8.7 oz or Larger Only; Limit of 4 Like Coupons In Same Shopping Trip
$1/2 Kellogg's Raisin Bran Cereals printable
$2/4 Kellogg's Cereals printable
$1/1 Kellogg's Cereal printable [Need 850 rewards points]
$1/2 Kellogg's Froot Loops, Apple Jacks, Corn Pops, Honey Smacks, FMW Little Bites, Krave or Kellogg's Frosted Flakes printable
$1/2 Kellogg's Frosted Flakes (Checkout 51 Deposit) [Valid on 9.5 oz or larger. Items must appear on the same receipt.; Cannot use this offer with any other print or in-app coupon or rebate.]
$1/3 Kellogg's Cereals, exp. 7/15/18 (RMN 06/03/18 R) [8.7-oz.+, any flavor, mix or match; Limit of 4 like coupons in the same shopping trip]
Final Price: $1.49
Kellogg's Nutri-Grain Bars, 5 – 8 pk – $2.99
$1/1 Kellogg?s Nutri-Grain Bars, Special K Bars or Rice Krispies Treats Crispy Marshmallow Squares printable [5-ct.+, Any Flavor; Need 850 rewards points]
$1/2 Kellogg's Nutri-Grain Bars (Checkout 51 Deposit) [Valid on 7 oz or larger. Items must appear on same receipt.; Cannot use this offer with any other print or in-app coupon or rebate.]
Final Price: $1.49
Kellogg's Special K Bars, 5 – 8 ct – $2.99
$1/1 Kellogg?s Nutri-Grain Bars, Special K Bars or Rice Krispies Treats Crispy Marshmallow Squares printable [5-ct.+, Any Flavor; Need 850 rewards points]
$1.00/2 Kellogg's Special K Products – 5-13-18 RP; Includes Cereals, 10.8 oz or Larger Only; Bars or Bites, 5.2 – 7.4 oz; or Flatbread Breakfast Sandwiches or Crustless Quiche, 2 ct or Larger Only; Limit of 4 Like Coupons In Same Shopping Trip (exp 06/24/18)
$1/2 Kellogg's Nutri-Grain Bars (Checkout 51 Deposit)
[Valid on 7 oz or larger. Items must appear on same receipt.; Cannot use this offer with any other print or in-app coupon or rebate.]
Final Price: $1.49
Kraft American Cheese Singles, 12 oz – $3.29
Final Price: $2.79
Kraft Natural Cheese, 6.67 – 8 oz – $3.29
Final Price: $2.79
Kraft Philadelphia Cream Cheese, 8 oz – $3.99
Final Price: $3.49
Kroger Home Sense brand Latex Free Gloves – $1.59
Final Price: $1.09
Kroger Micro Cone Sundaes, 4 ct – $2.99
Final Price: $2.49
Kroger Water, 24 pk 16.9 oz bottles – $2.49
Final Price: $1.99
Kroger brand Deluxe Big Wheels Ice Cream, 6 ct – $2.99
Final Price: $2.49
Kroger brand Lunch Meat, 7- 9 oz – $2.79
Final Price: $2.29
La Croix Sparkling Water, 8 pk 12 oz cans – $2.99
Final Price: $2.49
Nabisco Chips Ahoy! Cookies, 6.98 – 13 oz – $2.79
$0.75/2 Nabisco Cookie or Cracker Products – 5-20-18 SS; Includes 3.5 oz or Larger Only (exp 06/20/18)
$1.00/3 Nabisco Cookie or Cracker Products – 5-20-18 SS; Includes 3.5 oz or Larger Only (exp 06/20/18)
Final Price: $1.92
Nabisco Ritz Crackers, 7.5 – 13 oz – $2.49
$0.75/2 Nabisco Cookie or Cracker Products – 5-20-18 SS; Includes 3.5 oz or Larger Only (exp 06/20/18)
$1.00/3 Nabisco Cookie or Cracker Products – 5-20-18 SS; Includes 3.5 oz or Larger Only (exp 06/20/18)
Final Price: $1.62
Nathan's Famous Beef Franks, 12 – 14 oz – $3.99
Final Price: $3.49
Nature Valley Bars, 5 – 12 ct – $2.99
$0.50/2 Nature Valley Bars or Biscuits
$1.00/2 Nature Valley Bars, Squares, or Bites – 6-3-18 SS; Includes 5 ct or Larger Only (exp 07/28/18)
$1.00/2 Nature Valley Granola Bars, Biscuits, Granola Cups, Layered Granola Bars, or Soft-Baked Filled Squares – 4-29-18 SS; Includes 5 ct or Larger Only (exp 06/23/18)
$0.50/2 Nature Valley Granola Bars, Biscuits, Granola Cups, Layered Granola Bars, or Soft-Baked Filled Squares – 4-29-18 SS; Includes 5 ct or Larger Only (exp 06/23/18)
$0.50/2 Nature Valley Bars, Squares, or Bites – 6-3-18 SS; Includes 5 ct or Larger Only (exp 07/28/18)
Final Price: $1.99
Noosa Yoghurt, 4 pk – $3.99
Final Price: $3.49
Pepperidge Farm Cookies, 5 – 8.6 oz – $3.29
Final Price: $2.79
Pepsi Products, 2 L – $1.49
Final Price: $0.99
Philadelphia Bagel Chips, – $2.29
$1.00/2 Kraft Philadelphia Cheesecake Cups or Pretzel/Bagel Chips & Cream Cheese Dip
Final Price: $1.29
Pringles, 4.94 – 5.6 oz – $1.49
Final Price: $0.99
Red Baron 14.76 – 27.7 oz – $3.79
Final Price: $3.29
Red Bull Energy Drink, 12 oz – $2.49
Final Price: $1.99
Sargento Cheese Slices, 6.67 – 8 oz – $2.49
$1.00/2 Sargento Cheese Slices – 5-20-18 SS (exp 06/23/18)
$1.50/2 Sargento Cheese Slices – 5-20-18 SS (exp 06/23/18)
$0.75/1 Sargento Ultra Thin Cheese Slices (Checkout 51 Deposit) [Any variety. ; Cannot use this offer with any other print or in-app coupon or rebate.]
Final Price: $1.25
Snuggle Scent Boosters, 56 – 230 ct – $5.99
$2/2 All or Snuggle Products, exp. 7/1/18 (RMN 06/03/18) [ETS; Limit of One Identical Coupon Per Shopping Trip]
Final Price: $4.49
So Delicious Frozen Dessert, 4 – 6 ct – $4.49
$1/1 So Delicious Dairy-Free Product printable
$1/2 So Delicious Dairy Free items (Savings.com)
Final Price: $2.99
Talenti Gelato, 16 oz – $4.49
Final Price: $3.99
Totino's Pizza Rolls, 34 – 40 ct – $2.99
$1.00/2 Totino's Pizza Rolls or Mini Snack Bites; Incldues 18 – 19.8 oz Only
Final Price: $1.99
Turkey Hill Ice Cream, 48 oz – $4.49
$0.75/1 Turkey HIll All Natural Ice Cream (Zip Code 12065); Includes 48 oz Only
$1.00/1 Turkey Hill All Natural Premium Ice Cream – 5-6-18 RP (exp 07/08/18)
Final Price: $2.99
Yoplait GoGurt, 8 pk – $2.89
Final Price: $2.39
Ziploc Disney Sandwich Bags, 66 ct – $3.49
$1/2 Ziploc Brand Products printable
Final Price: $2.99
Meat/Seafood
Hillshire Farm Smoked Sausage, 12 – 13 oz – $1.88
Digital coupons starting 6/13. Redeem 6/16 – 6/17 only. Redeem up to 5X
Oscar Mayer Beef Franks, 14 – 16 oz – $3.00
Private Selection brand Bacon, 12 – 16 oz – $3.99
Refrigerated/Frozen
Green Giant Vegetables, 7 – 10 oz – $1.00
Kroger Deluxe Ice Cream, 48 oz – $2.50
Kroger Fruit Bars, 6 ct – $2.50
Kroger Garlic Bread, 10.5 – 16 oz – $1.00
Kroger brand Cheese, 6 – 8 oz – $1.99
Kroger brand Frozen Vegetables, 10 – 12 oz – $1.00
Kroger brand Greek Yogurt, 5.3 oz – $0.75
Simple Truth Cage Free Eggs, 12 ct – $2.79
Simple Truth Organic Cheese, 6 oz – $3.49
Stouffer's Lean Cuisine, 5.25 – 11 oz – $2.00
Grocery
Coca-Cola, 12 pk 12 oz cans – $3.34 (Must Buy 3)
Heinz Ketchup, 38 oz – $0.99
Digital coupons starting 6/13. Redeem 6/16 – 6/17 only. Redeem up to 5X
Ice Mountain Spring Water, 24 pk 16.9 oz bottles – $2.99
Keebler Multipack, 12 ct – $2.99
Digital coupons starting 6/13. Redeem 6/16 – 6/17 only. Redeem up to 5X
Kettle brand Potato Chips, 13 oz – $1.99 (MUST BUY 2)
$1.00/2 Kettle Brand Products; Includes 4 oz or Larger Only
Final Price: $1.49
Kraft Mayonnaise, 22 – 30 oz – $0.99
Digital coupons starting 6/13. Redeem 6/16 – 6/17 only. Redeem up to 5X
$1.00/2 Kraft Mayonnaise or Miracle Whip Dressing – 5-13-18 SS; Includes 22 oz or Larger Only (exp 07/08/18)
Final Price $0.49
Kraft Miracle Whip, 30 oz – $0.99
Digital coupons starting 6/13. Redeem 6/16 – 6/17 only. Redeem up to 5X
$1.00/2 Kraft Mayonnaise or Miracle Whip Dressing – 5-13-18 SS; Includes 22 oz or Larger Only (exp 07/08/18)
Kroger brand Apple Juice, 64 oz – $1.49
Kroger brand Peanut Butter, 16 oz – $1.49
Kroger brand Potato Chips, 9 – 11 oz – $1.79
Little Debbie Snacks, 6 – 12 ct – $1.25
$0.75/1 Little Debbie Turtle Brownies – 5-13-18 RP (exp 06/30/18)
Final Price: $0.50
Pepsi Products, 12 pk 12 oz cans – $3.34 (MUST BUY 3)
Powerade Sports Drink, 12 pk 12 oz bottles – $2.99
Digital coupons starting 6/13. Redeem 6/16 – 6/17 only. Redeem up to 5X
Rockstar, 16 oz – $1.00
Snapple, 16 oz – $1.00
ThinkThin Super Fruit Bar – $1.25
HBA
Kroger brand Sunscreen, 8 oz – $4.99
Softsoap Liquid Hand Soap, 7.5 oz – $1.00
Speed Stick Deodorant or Lady Speed Stick Deodorant, 1.4 – 1.8 oz – $1.00
Household
Arm & Hammer Laundry Detergent, 120 – 150 oz – $5.00 (Must Buy 2)
Brawny Paper Towels, 6 Big Rolls – $5.00 (MUST BUY 2)
$0.55/1 Brawny Paper Towel printable [2, 3 or 6 roll]
$0.55/1 Brawny Paper Towels Rolls, exp. 7/3/18 (RMN 06/03/18) [2-ct.+]
Final Price: $4.45
Home Sense Facial Tissues, 65 – 160 ct – $1.00
Kingsford Charcoal, 15.4 lbs – $3.77
Digital coupons starting 6/13. Redeem 6/16 – 6/17 only. Redeem up to 5X
$1.00/1 Kingsford Match Light Briquets
Lysol Disinfecting Wipes, 75 – 80 ct – $3.99
$0.50/1 Lysol Daily Cleaner Wipes, exp. 6/15/18 (SS 04/22/18) [35-ct.+]
Final Price: $3.49
Quilted Northern Bath Tissue, 6 Mega Rolls – $5.00 (MUST BUY 2)
$0.50/1 Quilted Northern Bath Tissue; Sign Up with Email Address to Access Coupon
$1.00/1 Quilted Northern Bath Tissue – 5-13-18 RP; Includes Double Roll, 6 ct or Larger Only (exp 06/13/18)
$1.25/1 Quilted Northern Bath Tissue – 5-13-18 RP; Includes Double Roll, 12 ct or Larger Only or Mega Roll, 6 ct or Larger Only (exp 06/13/18)
Final Price: $3.75
Baby
Pampers Diapers, 18 – 35 ct – $8.99
$1/1 Pampers Swaddlers Diapers printable [ETS]
$1/1 Pampers Easy Ups printable
$1/1 Pampers Cruisers Diapers printable [ETS]
$3 off Pampers Diapers or Easy Ups Training Underwear, exp. 6/16/18 (P&G 06/03/18) [(2) bags or (1) box; Excludes trial/travel size; Limit of 2 Identical Coupons Per Household Per Day]
Final Price: $7.49
Pet
Purina Fancy Feast, 3 oz – $0.60
$1.00/24 Fancy Feast brand Gourmet Wet Cat Food; Includes Any Variety 3 oz cans Only
$1.00/12 Fancy Feast Gourmet Cat Food Cans – 3-4-18 SS (exp 06/30/18)
Final Price: $0.52
VIEW MORE WEEKLY AD
INCLUSION LIST
MEAT/SEAFOOD
Bar-S Lunch Meat – Prices Vary
Bar-S Smoked Sausage – Prices Vary
Earl Campbell's Hot Links – Prices Vary
Kroger Lunch Meat Tub – Prices Vary
Oscar Mayer Natural Plates – Prices Vary
DELI/BAKERY
Fresh Foods Market Whole Roasted Chicken – Prices Vary
Sabra Hummus – Prices Vary
$1.00/1 Sabra Hummus; Includes 10 oz or Larger
Stacy's Pita Chips – Prices Vary
GROCERY
7Up Products – Prices Vary
Barcel Snack Chips – Prices Vary
Barilla Pasta – Prices Vary
Barilla Pasta Sauce – Prices Vary
Blue Diamond Almonds – Prices Vary
$1.00/1 Blue Diamond Almonds – 5-13-18 SS; Includes 10 oz or Larger Only (exp. 07/15/18)
$1.50/2 Blue Diamond Almonds – 5-13-18 SS; Includes Bags, 5 oz Only or Cans, 6 oz Only (exp. 07/15/18)
BodyArmor Water – Prices Vary
Bodyarmor Sports Drink – Prices Vary
$0.50/1 Bodyarmor Drink
C2O Pure Coconut Water – Prices Vary
Coca-Cola Products – Prices Vary
Community Coffee – Prices Vary
$3.00/2 Community Coffee Bags – Checkout 51 Rebate; Includes 12 – 32 oz; Cannot use this offer with any other print or in-app coupon or rebate; Offers May Vary by Account; Limit 1
Community Coffee K-Cups – Prices Vary
$3.00/2 Community Coffee Single-Serve Boxes – Checkout 51 Rebate; Includes 12 – 36 ct; Cannot use this offer with any other print or in-app coupon or rebate; Offers May Vary by Account; Limit 1
Cracker Barrel Macaroni & Cheese Box – Prices Vary
Crystal Light Drink Mix Canisters – Prices Vary
Crystal Light Drink Mix On-The-Go – Prices Vary
Crystal Light Water Enhancers – Prices Vary
Doritos – Prices Vary
Dove Chocolate – Prices Vary
Duncan Hines Cake Mix – Prices Vary
Dunkin' Donuts Iced Coffee – Prices Vary
Folgers Coffee – Prices Vary
Folgers Coffee K-Cups – Prices Vary
General Mills Fiber One Bars – Prices Vary
$0.50/2 Fiber One Chewy Bars, 90 Calorie Products, Protein Chewy Bars, Streusel, Cheesecake Bars, Layered Bars, Protein Nut Bars, Brownie or Cookie Bites, Mini Bars, or Supreme Brownies
$0.50/2 Fiber One Bars – 6-17-18 SS (exp 08/11/18)
Herdez Guacamole Salsa – Prices Vary
Herdez Roasted Salsa – Prices Vary
Kellogg's Nutri-Grain Bars – Prices Vary
$1.00/2 Kellogg's Nutri Grain Bars – Checkout 51 Rebate; Includes 7 oz or Larger; Cannot use this offer with any other print or in-app coupon or rebate; Offers May Vary by Account; Limit 1
Kellogg's Pop-tarts Toaster Pastries – Prices Vary
$1.00/3 Kellogg's Pop-Tarts Toaster Pastries; Includes 6 ct or Larger Only; Limit of 4 Like Coupons In Same Shopping Trip
Kellogg's Special K Bars – Prices Vary
$1.00/2 Kellogg's Special K Products – 5-13-18 RP; Includes Cereals, 10.8 oz or Larger Only; Bars or Bites, 5.2 – 7.4 oz; or Flatbread Breakfast Sandwiches or Crustless Quiche, 2 ct or Larger Only; Limit of 4 Like Coupons In Same Shopping Trip (exp 06/24/18)
Kraft Easy Mac Cups – Prices Vary
Kraft Velveeta Cups – Prices Vary
Kroger Ice Cream Cones – Prices Vary
LaCroix Sparkling Water – Prices Vary
Mezzetta Peppers – Prices Vary
Nabisco Chips Ahoy! Cookies – Prices Vary
$0.75/2 Nabisco Cookie or Cracker Products – 5-20-18 SS; Includes 3.5 oz or Larger Only (exp. 06/20/18)
$1.00/3 Nabisco Cookie or Cracker Products – 5-20-18 SS; Includes 3.5 oz or Larger Only (exp. 06/20/18)
Nature Valley Bars – Prices Vary
$0.50/2 Nature Valley Bars or Biscuits
$1.00/2 Nature Valley Granola Bars, Biscuits, Granola Cups, Layered Granola Bars, or Soft-Baked Filled Squares – 4-29-18 SS; Includes 5 ct or Larger Only (exp 06/23/18)
$1.00/2 Nature Valley Bars, Squares, or Bites – 6-3-18 SS; Includes 5 ct or Larger Only (exp 07/28/18)
$0.50/2 Nature Valley Bars, Squares, or Bites – 6-3-18 SS; Includes 5 ct or Larger Only (exp 07/28/18)
$0.50/2 Nature Valley Granola Bars, Biscuits, Granola Cups, Layered Granola Bars, or Soft-Baked Filled Squares – 4-29-18 SS; Includes 5 ct or Larger Only (exp 06/23/18)
$0.50/2 Nature Valley Granola Bars, Biscuits or Soft Baked Filled Squares; Includes 5 ct or Larger Only; Excludes Nature ValleyTM Granola Cups, Layered Granola Bars, Granola Bites (exp 06/29/18)
Peet's Coffee K-Cups – Prices Vary
Pepperidge Farm Cookies – Prices Vary
Pepsi Products – Prices Vary
Perrier Sparkling Water – Prices Vary
$1.00/1 Perrier; Includes 10 pk cans or 6 pk 0.5 L Only
$1.00/1 Perrier – 6-3-18 RMN; Includes 10 pk cans Only or 6 pk 0.5 L bottles Only (exp 08/02/18)
Powerade – Prices Vary
Private Selection Coffee Bag – Prices Vary
Red Bull – Prices Vary
Rice A Roni Cups – Prices Vary
Ritz Crackers – Prices Vary
$0.75/2 Nabisco Cookie or Cracker Products – 5-20-18 SS; Includes 3.5 oz or Larger Only (exp. 06/20/18)
$1.00/3 Nabisco Cookie or Cracker Products – 5-20-18 SS; Includes 3.5 oz or Larger Only (exp. 06/20/18)
Ruffles Potato Chips – Prices Vary
San Pellegrino Water – Prices Vary
Snapple Tea – Prices Vary
Stonefire Naan Flatbread Dippers – Prices Vary
$1.00/1 Stonefire Product – 5-20-18 RMN (exp 08/31/18)
Velveeta Cheesy Skillets Box – Prices Vary
DAIRY/FROZEN
Ben & Jerry's Ice Cream – Prices Vary
Ben & Jerry's Ice Cream Slices – Prices Vary
Breyers Ice Cream – Prices Vary
Dole Fruit – Prices Vary
Enlightened Ice Cream – Prices Vary
$1.00/2 Enlightened Ice Cream
Stack With
$1.50/2 Enlightened The Good-For-You Ice Cream – Ibotta Rebate; Includes pt Only; May Redeem 5x
Graeber's Ice Cream – Prices Vary
Halo Top Ice Cream – Prices Vary
$1.00/1 Halo Top Ice Cream; Must Sign Up For Newsletter To Access Coupon
Kroger Ice Pix Pops – Prices Vary
Nestle Ice Cream Novelties – Prices Vary
Pictsweet Farms Vegetables – Prices Vary
Pictsweet Steamables – Prices Vary
Private Selection Ice Cream – Prices Vary
Red Baron Pizza – Prices Vary
Ripple Dairy-Free Pea Milk – Prices Vary
So Delicious Dairy-Free Dessert – Prices Vary
$1.00/1 So Delicious Dairy Free Item; Sign up required; Coupon is Emailed
$1.00/2 So Delicious Dairy Free Items
Totino's Pizza Rolls – Prices Vary
$1.00/2 Totino's Pizza Rolls or Mini Snack Bites; Incldues 18 – 19.8 oz Only
Stack With
$1.00/2 Totino's Pizza Rolls – Ibotta Rebate; Includes 40 ct Only
Totino's Sweet Bites – Prices Vary
Turkey Hill Ice Cream – Prices Vary
$0.75/1 Turkey HIll All Natural Ice Cream (Zip Code 12065); Includes 48 oz Only
$1.00/1 Turkey Hill All Natural Premium Ice Cream – 5-6-18 RP (exp 07/08/18)
Turkey Hill Ice Cream Novelties – Prices Vary
HOUSEHOLD
Air Wick Twin Oil Refills – Prices Vary
$1.00/1 Air Wick Scented Oil Twin or Triple Refill – 6-3-18 SS (exp. 07/01/18)
Cascade Dishwasher Detergent ActionPacs – Prices Vary
$1.00/1 Cascade ActionPacs Dishwasher Detergent; Includes 30 ct or Higher Only; Excludes Trial and Travel Size; Limit of 1 Like Coupon Per Household Per Day
Cascade Dishwasher Gel – Prices Vary
$1.00/2 Cascade Dishwasher Detergent AND Rinse Aid; Excludes Trial and Travel Size; Limit of 1 Like Coupon Per Household Per Day
Cascade Dishwasher Powder – Prices Vary
Dawn Dish Detergent – Prices Vary
Febreze Candles – Prices Vary
Febreze Fabric Freshener – Prices Vary
Febreze One Starter Kits – Prices Vary
Febreze Plugins – Prices Vary
Finish Automatic Dishwasher Detergent Gel – Prices Vary
Finish Automatic Dishwasher Detergent Powder – Prices Vary
Finish Jet-Dry Rinse Aid – Prices Vary
$0.75/1 Finish Jet Dry Rinse Aid – 6-3-18 SS (exp 07/03/18)
Lemi Shine Dish Detergent Booster – Prices Vary
Purex Crystals In-Wash Fragrance Booster – Prices Vary
$0.75/1 Purex Crystals – Ibotta Rebate; Includes 15.5 oz or Larger Only
Solo Paper Cups – Prices Vary
Solo Paper Plates – Prices Vary
Swiffer Refills – Prices Vary
Ziploc Storage Bags – Prices Vary
$1.00/2 Ziploc Brand Products
HBA
AXE Body Spray Products – Prices Vary
$1.00/1 AXE Body Spray or Deodorant Products – 6-10-18 RMN; Excludes Trial and Travel Size; Maximum of 2 Like Coupons Per Household Per Day (exp. 07/08/18)
AXE Body Wash – Prices Vary
$1.00/1 AXE Body Wash Product – 6-10-18 RMN; Excludes Trial and Travel Size; Maximum of 2 Like Coupons Per Household Per Day (exp. 06/24/18)
AXE Deodorant – Prices Vary
$1.00/1 AXE Body Spray or Deodorant Products – 6-10-18 RMN; Excludes Trial and Travel Size; Maximum of 2 Like Coupons Per Household Per Day (exp. 07/08/18)
Aveeno Body Wash – Prices Vary
$1.00/1 Aveeno Products; Excludes Trial and Travel Size
$1.00/1 Aveeno Product; Excludes Trial or Travel Size, Bars and Body Lotion, 2.5 oz; Limit 1 Coupon Per Person; No More Than 4 Coupons For The Same Product In The Same Transaction
Aveeno Shampoo or Conditioner – Prices Vary
$1.00/1 Aveeno Products; Excludes Trial and Travel Size
$1.00/1 Aveeno Product; Excludes Trial or Travel Size, Bars and Body Lotion, 2.5 oz; Limit 1 Coupon Per Person; No More Than 4 Coupons For The Same Product In The Same Transaction
Degree Deodorant – Prices Vary
$1.00/1 Degree Women Premium Sticks – Checkout 51 rebate; Cannot use this offer with any other print or in-app coupon or rebate; Offers May Vary by Account; Limit 1
Degree Deodorant Spray – Prices Vary
$4.00/2 Dove, Dove Men+Care, Degree, or AXE Male AND Female Dry Spray Antiperspirant Product – 6-10-18 RMN; Excludes Trial and Travel Size; Maximum of 2 Like Coupons Per Household Per Day (exp. 06/23/18)
$1.50/1 Degree Women Dry Spray – Checkout 51 Rebate; Cannot use this offer with any other print or in-app coupon or rebate; Offers May Vary by Account; Limit 1
Degree Deodorant Stick – Prices Vary
$1.00/1 Degree Women Premium Sticks – Checkout 51 rebate; Cannot use this offer with any other print or in-app coupon or rebate; Offers May Vary by Account; Limit 1
Dove Deodorant – Prices Vary
$1.00/1 Dove Men+Care Deodorant Stick – 6-10-18 RMN; Excludes Multipacks; Excludes Trial and Travel Size; Maximum of 2 Like Coupons Per Household Per Day (exp. 06/23/18)
$1.25/1 Dove Advanced Care Antiperspirant/Deodorant Product – 6-10-18 RMN; Excludes Trial and Travel Size; Maximum of 2 Like Coupons Per Household Per Day (exp. 06/23/18)
Dove Deodorant Spray – Prices Vary
$4.00/2 Dove, Dove Men+Care, Degree, or AXE Male AND Female Dry Spray Antiperspirant Product – 6-10-18 RMN; Excludes Trial and Travel Size; Maximum of 2 Like Coupons Per Household Per Day (exp. 06/23/18)
Dove Deodorant Stick – Prices Vary
$1.00/1 Dove Men+Care Deodorant Stick – 6-10-18 RMN; Excludes Multipacks; Excludes Trial and Travel Size; Maximum of 2 Like Coupons Per Household Per Day (exp. 06/23/18)
Gillette Razors – Prices Vary
$2.00/1 Gillette or Venus Razor – 6-3-18 PG; Excludes Gillette 3, Gillette 5, or Disposables; Excludes Trial and Travel Size; Limit of 2 Like Coupons Per Household Per Day (exp. 06/30/18)
$3.00/1 Gillette or Venus/Daisy Disposable Razor – 6-3-18 PG; Includes 2 ct or Larger Only; Excludes Sensor 2, 2 ct and Daisy 2, 2 ct; Excludes Trial and Travel Size; Limit of 2 Like Coupons Per Household Per Day (exp. 06/30/18)
Kroger Mouthwash – Prices Vary
Kroger Toothbrush – Prices Vary
Nivea Body Lotion – Prices Vary
Nivea Body Wash – Prices Vary
Nivea In-Shower Body Lotion – Prices Vary
Oral B Toothbrush – Prices Vary
$1.00/1 Oral B Adult or Kids Manual Toothbrush – 6-3-18 PG; Excludes Healthy Clean, Cavity Defense; Excludes Trial and Travel Size; Limit of 2 Like Coupons Per Household Per Day (exp. 06/16/18)
Poise Pads – Prices Vary
$2.00/1 Poise Pads; DND
$5.00/2 Poise Pads, Liners or Impressa – 6-3-18 SS; Excludes Liners, 14 – 26 ct (exp 06/23/18)
Q-Tips Cotton Swabs – Prices Vary
Vaseline Lotion – Prices Vary
BABY
Comforts Baby Wipes – Prices Vary