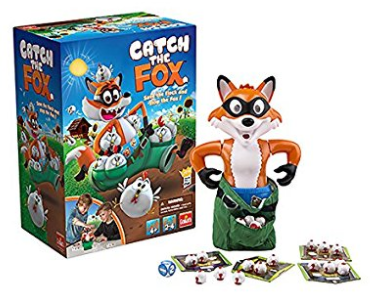 If you are looking for a great gift idea for any game board fan, you will not want to miss this deal! You can get this fun Goliath Catch the Fox Game for only $13.99! Plus you can get FREE shipping on orders over $25 or if you are an Amazon Prime Member.
Uh oh – the Fox is in the hen house! This greedy fox is snapping up the chickens and stuffing them into his pockets. But when there are too many chickens, his pants will fall down and the chickens will escape! Roll the die to see how many chickens to add into the fox's pockets, and push his head one time. Before you know it, the fox will lose his pants and the chickens will roll everywhere! Rescue the chickens and return them to your chicken coop. Be the first player to fill up your coop to win! Can you catch the fox? From the makers of Pop the Pig, Doggie Doo, Gooey Louie, Jumping Jack, Shark Bite, Lucky Ducks, Mr. Bucket, and Googly Eyes.
You can also save up to 40% on other select Family Games and Puzzles today only!